At Yaryan Eye Care Center, we are proud to provide residents of Connersville, Brookville, and Rushville, IN with reliable eye care services. One condition that can rob you of healthy eyes is macular degeneration, also referred to as age-related macular degeneration or AMD. This condition typically affects adults over the age of 60 and can lead to central vision loss. Normal activities like reading or driving a car can become difficult. Routine eye exams are important to identify and address conditions like macular degeneration before they are allowed to progress.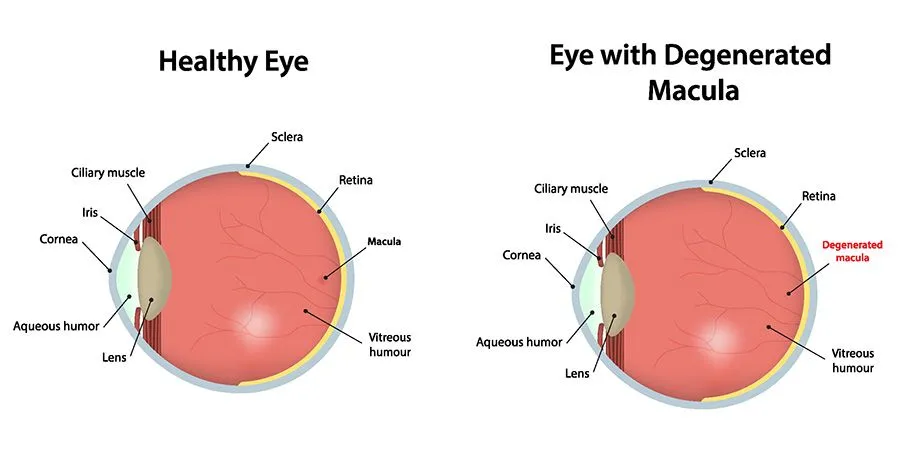 Effects of Macular Degeneration
Macular degeneration affects the macula, which is the center portion of the retina. If someone in your immediate family has the condition, you will be more likely to develop it. It is broken down into two forms as described below:
Dry macular degeneration, which is responsible for roughly 90 percent of all diagnoses in adults
Wet macular degeneration, which is considered the more severe form and makes up about 10 percent of cases. Blood vessels can leak, which causes damage to your retina and can quickly lead to vision loss.
Symptoms of Macular Degeneration
One of the challenging aspects of AMD is that there are no early warning signs. As it progresses, you may notice the following symptoms:
Straight lines appearing wavelike
Difficulty recognizing familiar faces
Difficulty noticing fine details
Blurred spots in central vision
Wet macular degeneration can lead to sudden vision loss. If you feel something isn't right, schedule an appointment immediately. Our eye doctor has the knowledge and equipment necessary to make an accurate diagnosis and aggressively intervene as needed.
Macular Degeneration Treatment
Unfortunately, there is not a present cure for macular degeneration. However, an optometrist can help you manage it. Intravitreal injections are often used to treat the wet form (injections in the eye). Although there is no cure, you can help by leading a healthy lifestyle, exercising, and abstaining from smoking. Early detection is critical with regular eye exams with our optometrist.
Contact Our Optometrist in Connersville, Brookville, and Rushville, IN
We have three locations in Eastern Indiana that area that proudly meet the needs of residents in the area. We invite you to come to check out our Rushville location which is just 50 minutes east of Indianapolis. Regular eye exams are the best defense against macular degeneration. For more information or to schedule an appointment with our eye doctor, call Yaryan Eye Care Center today at (765) 377-1241.